The Pussyfoot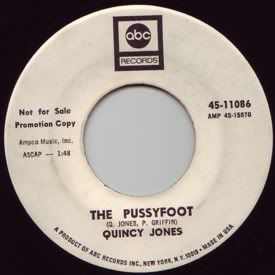 Here's a tasty 45 I bought last November at the WFMU show in NYC. Somehow, it got misplaced, and I just recently dug it out an gave it a proper cleaning and listen. And it's really striking a chord with me, especially since I've taken a break from the jazzier side of 45 collecting for the last half year.....
This 45 by Quincy Jones is backed with "For Love of Ivy", which is the same name
of a movie released in 1968. From what I have been able to find out, "The Pussyfoot" did not make it onto the soundtrack LP. A shame, really, as this track is real nice.
"The Pussyfoot" has a real swinging groove, led by the piano and bass. The piano is perhaps the real driving force, though, so percussive and direct. Underneath this,
an organ bubbles up and around the main theme, playful, yet giving it a soulful feel, too. The tambourine jangles fleshes things out, and the drums - when they're in the tune - are truly in a support role: the piano is the real percussion here.
This is what I love about jazz and jazzier side of things on 45, the directness. Forget all that soloing and give me a groove I can nod, or even dance, to.