I Love You More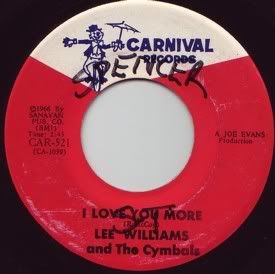 Well, I was hoping to have a new 45 on the blog last week, but with the arrival of my daughter's first molars, it was a night-waking, sleep-deprived, caffeine-fueled week. I was so tired that, even though I bought the Valentines cards before the actual day, I didn't remember to sign them until Thursday morning. Anyway, here's a belated love song, Lee Williams & The Cymbals' "I Love You More" on Carnival Records.
"I Love You More" is a slowie, opening with some plaintive guitar, the bass, and a crisp drum beat. Other than this, there's some very low horns (tuba?) and the vocals of the group. And those vocals are simply outstanding. There's not much variation in the musical theme of the tune, just some slighly scratchy guitar, plenty of bass and tuba to give it plenty of bottom, and those spot on drums. The tune is direct, yet with plenty of depth. Singing "I love you more than anybody's ever loved anyone" could backfire on you, but it never does here. Simply brilliant. You can check it out on
SoulClub
.
I believe I have mentioned this in a prior post, but I highly recommend the "A Carnival of Soul" CDs (on Kent) that feature sides from this label. Quality soul music through and through.