Forget Him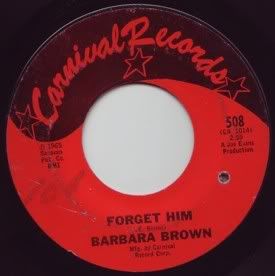 I thought I'd stay with the Carnival label and feature this wonderful 45 by Barbara Brown, "Forget Him", which was released in 1965. I bought this at a flea market last year, and the seller had placed a small pink post-it note on the 45 label that read "worth a lot". So when I handed him the four 45s I was interested in, I expected the worst, but was pleased when he asked for $5 for the lot. I believe another 45 had a note that read "hard to find". Funnily enough, I have kept these post-it notes, and they now reside on the paper sleeves that house the 45s.
Barbara Brown's "Forget Him" is built on a solid drum beat, a percussive piano, guitar and bass. There's a slick little guitar line that opens the tune, and re-appears throughout, often working in concert with the drums to almost reset the tune. Horns work in the background, primarily via a mournful trumpet that helps the maintain the mood of the tune. Barbara's delivery is sometimes down, advising the other lady to forget the guy in question, to sometimes soaring, when reminiscing about him. Likewise, the tempo moves between a slower pace to mid-tempo. Start to finish, though, everything is spot on: another quality production by Carnival.
This tune can also be heard on
Soulclub
. Check it out.
Also, if you're in the Asbury Park area, there is a record show this Sunday, February 24th at the Asbury Lanes. I will be there selling some LPs and 45s, so stop by if you can. More info
here
.