I Can't Believe You Love Me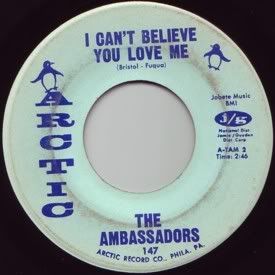 I've been meaning to feature this great 45 by the Ambassadors that I bought last year, somehow misfiled, and only recently had the opportunity to really sit down and listen to. Like the Helene Smith 45 featured a while back, this was another record I pulled from a box ofunsleeved 45s at my local flea market (looking at unsleeved 45s being a practice I only really took to last year). Anyway, enough talk of my collecting habits, and, instead, let's talk about this fantastic slice of soul by The Ambassadors released on Arctic in 1969.
Opening with a steady beat, a lovely bit of jangly guitar, and ace harmonies, the song settles into it's groove and then when the lead vocalist comes in, the song really takes off. His vocals are spectacularly soulful. He consistently brings his vocals up out of the tune, and in the choruses, he works with, or juxtaposes against the backing vocals, sometimes finishing their lines to very nice effect. Lines like "When I speak your name in the sweetest tone, It's just as though I'm all alone" just knock me out. The production is quality, a rich sound of horns, piano, bass and drums grounding the vocals (especially like the bass sound of the horns as the vocals soar).
The more I hear on this label, the more I am impressed. Quality stuff.