El Pito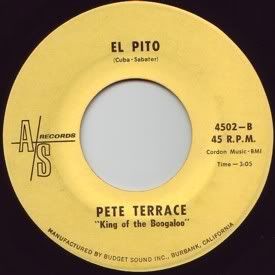 Here's a latin scorcher that I bought for the flipside, a cover of Jr. Walker's "Shotgun", last year, and recently flipped over. Boy was I wrong about the side to listen to on this one. Anyway, "El Pito" is a cover (originally done by Joe Cuba) taken from an LP entitled "King of the Boogaloo" by Pete Terrace.
Opening with a a whistling interlude, this tune gets right down to it, and is fueled by hand-clapping over the groove. The handclapping never stops, no matter what the instruments do, and there are plenty of tempo changes throughout. And every time the tune begins to build again, there's that catchy piano line, and then the drums come in, and then vocals come in, and we're off.
This is probably one of those tunes that shouldn't be written about. This tune's purpose is very direct: get up off your butt and dance.