I'm So Glad I Found You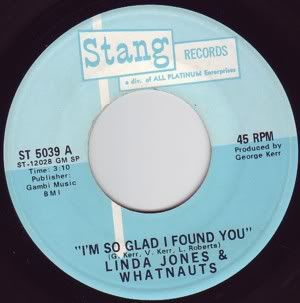 As I said a few days ago I've really been in a soul 45 mood. Could be the sound files I was listening to at
Hitsville Soul Club
over the weekend. One of the records featured in their reviews section was Linda Jones & Whatnauts "I'm So Glad I Found You". This is one of the northern soul 45s I had found in the late 90s before I delved headfirst into freakbeat and jazz and funk. And what a great tune it is.
The production on this 45 has a big 4/4 beat that grounds the tune, but also some gorgeous strings that lifts everything up. And then there are the vocals. The male lead opens with a delivery that is just stunning and supported by a high-pitched male chorus. Then Linda takes over and takes it up a notch when she repeats the sentiments. The production is quite stellar. I've listened to this song a number of times now and each time I hear something new.
I have more to add, but I'm exhausted and I fear I will venture into incoherence if I continue typing......