Jazz 45: Doin' What I Wanna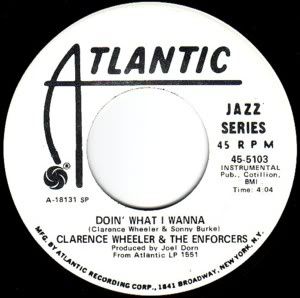 Here we have a top notch jazz 45 from the Atlantic label, Clarence Wheeler & the Enforcers' "Doin' What I Wanna". It's a funky soul jazz number....perhaps the best soul jazz tune that was never released on Prestige. Now if only they had the foresight to release "Right On" on a 45.....
A groovy jazz number, "Doin' What I Wanna" has these great horns and an everpresent organ player that is spot on. The saxophone, trumpet and organ players each get some solo time, and it's just the right length of time. The organ player comes in and flourishes during the other solos. Real nice touch. The theme laid down by the group though, those powerful horns that open and close the tune, that's really where it's at. That's really where the soul is.......