Jazz 45 week: Boo-D-Doo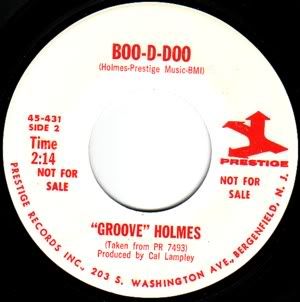 This week is dedicated to jazz 45s. I will cover most of the big jazz labels (Prestige, Blue Note, Verve, etc), and throw in a few interesting small label jazz releases that I have been able to find. I tend to go for more of the club/mod jazz sound in addition to the funkier side of the jazz spectrum, which will be shown by the selections shown this week. Most of the 45s featured have been found in the last few months and all are highly recommended.
To kick it off, a 45 that floored me a couple of months back when I managed to buy a stack of Prestige singles, "Groove" Holmes' "Boo-D-Doo". An uptempo organ-led soul jazz number that has a stop and start rhythm. And every time the group stops (or slows down) there is some nice and steady conga playing that gets the spotlight. Of course, Mr. Holmes really tears it up. And the band is real tight, too, which makes it all work nicely.