Jazz 45: Sittin' Duck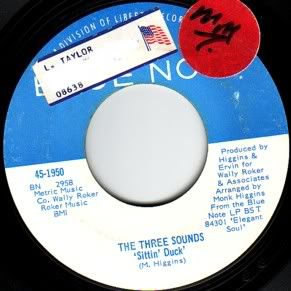 Tonight's jazz 45 is one from the Blue Note catalog, The Three Sounds' "Sittin' Duck". When I first got into jazz 45s, the Blue Note catalog didn't do much for me. I was firm believer of the soul jazz sound of Prestige. That was the only sound for me. Well, that all changed when I bought the mod-jazz killer "Collision In Black" 45 by Blue Mitchell. My eyes have (thankfully) been opened.
"Sittin' Duck" is a fantastic mid-tempo piano led number with some heavy drumming. It starts off slow and bluesy, building nicely with some strings and flute, and then picks up the tempo a bit. Then it gets nicely textured, including some vibes, with the piano always out in the front...and the drummer making himself heard. The piano playing is just phenomenal, stretching out over that strong, steady drum beat. Lovely bit of r'n'b tinged jazz here.