I've Got To Space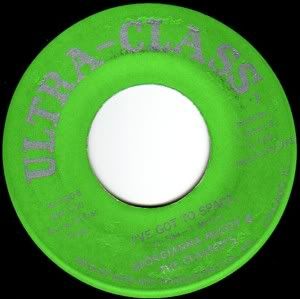 I've really been in the mood for some soul lately. I'm blaming it on this 45 that I found this weekend, Georgianna McCoy and the Classetts "I've Got To Space" on Ultra-Class. A feature and information on this label and it's parent label, Mod-Art, can be found at the funkandsoul blog link I have listed under "Links". Highly informative & some other scans from the label to boot.
"I've Got To Space" has a great bouncy groove that is buoyed by the bass and percussion. The horns drift in and out, and then rise to punctuate the chorus. Actually, all the instruments are pretty much up in the mix (except maybe the drums), resulting in a nice loud recording. But the spotlight firmly belongs to Georgianna, nothing drowns out her vocals. Nor can the male chorus claiming they love her get her to change her mind, her declaration "to space". Her delivery plus the production really makes this a keeper. Plus it's the first soul tune I've heard where they rhyme the word crap. And it works.
The few tunes I've heard from the Mod-Art stable have really caught my attention. They seem to have indiosyncracies that really make it interesting. I'm looking forward to more.