Get Ya Some / Players Theme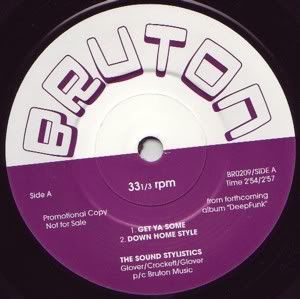 Last of the birthday 45s here, The Sound Stylistics EP, featuring 3 songs: "Get Ya Some", "Down Home Style" and "The Players Theme". From what I have read, this record was a promotional release only available at an event hosted by Bruton (a label that makes 'library' music). Considering that most of those who attended were not funk fans or even record collectors, these EPs probably hit the trash bin as the attendees left.

The Sound Stylistics are a collection of musicians from several current UK funk bands. Unfortunately, I can't find the details on the web. I know there's been a discussion of this release on the Funk45 forum, but the search feature on the site isn't very strong, so it requires a bit of wading through the posts.....

This EP has a couple of storming funk numbers. "The Players Theme" is a hard uptempo funker full of percussion, organ, occassional horn flourishes, that rich funk sound I really get into. The drums and conga work very well together, the timbre of the conga being just below the snare. Huge break, too, for those who are crazy for breaks. Nice and straightforward, and it doesn't seem to be nearly 5 minutes long. Good job of mixing it up and keeping the listener's interest.

"Get Ya Some" is the real winner. Vocal chants, flute all over the place(!), more horns, spot on drumming, and scratchy guitar. You know what the difference is here? More soul in this tune than "The Players Theme". Not as loud or uptempo or 'knock you over the head', but definitely more soulful. Would work nicely on a soundtrack. To hell with that, will work nicely in a club.

"Down Home Style" continues with the "Get Ya Some" groove, stripping it down to guitar, bass, organ and drums. The organ gets (most of) the spotlight here. Strong groover.

Some of the more recent releases are as hard to find as the late 60s / early 70s 45s.......