(I Can't Get No) Satisfaction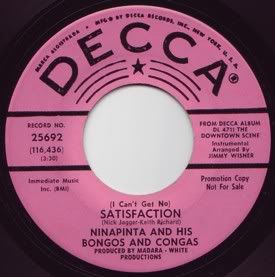 Here's something a bit left field.....a latin cover of "(I Can't Get No) Satisfaction" by Ninapinta and his Bongos and Congas. It's a pretty good mover, featuring the poly-rhythmic texture that makes up most latin tunes, with a trumpet having the main lines (it basically replaces the words), some tasty backing horns, and a swinging piano. Add a couple of bongo / conga breaks, and there you have it.
It sounds a bit more swingin' London than NY boogaloo, but it sets down a nice groove. And hell, it's good fun. I love the quirky stuff that got a release in the 60s.....