In My Life I've Loved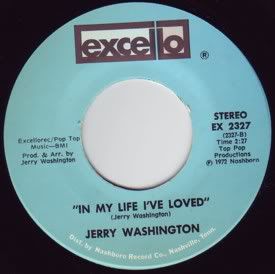 This weekend I went to a record show where I was able to upgrade a few 45s for a dollar each. One of these 45s is Jerry Washington's "In My Life I've Loved" on Excello. This record is certainly not rare (it shouldn't run you more than $5 to $10), but it is worth every penny.
The song is so soulful for such a heavy funk track. The weight of the drums, horns and vocals is just unbelievable. Then it kicks into this swinging, handclapping, joyous section, like a ray of sun breaking through the clouds. But that doesn't last long, as that leads right back into the heaviness present in the beginning of the tune. Ace horns, great drum sound, top notch all the way round.
Have a listen
here
.