Sophisticated Walk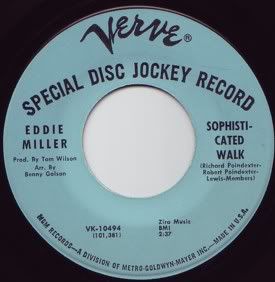 Another 45 I found yesterday, Eddie Miller's "Sophisticated Walk" on Verve. I'm usually going after the jazz 45s on this label, but I can't help but give anything on this label a spin. I'm becoming intrigued by the number of different genres this label released.
Eddie knocks out a mid-tempo soul tune that has a couple of things going for it:
a. the bass is right up in the front of the tune (it's like a wall of bass)
b. there's plenty of organ thrown about
c. the well-timed horns coming in for the chorus
d. Eddie screaming 'aahh!' throughout the tune
e. it's catchy as hell and makes me wanna dance
More weekend finds to follow tomorrow. Looking at them all next to each other, it's quite an array of sounds. But pretty representative of my tastes.