Right String Baby, But The Wrong Yo-Yo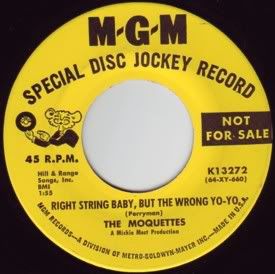 Here's a British band that, until this past weekend, I did not know had a release in the States: The Moquettes' "Right String Baby, But The Wrong Yo-Yo" on MGM. I do have a compilation album of 'British Invasion' bands which includes the Moquettes, and I thought that that was the extent of the Moquettes stateside.
Well, what's this tune about besides the quirky title? It's a catchy garage pop number that features plenty of organ, a great harmonica solo, and some crisp drumming. Two singers share the duties, which creates a cool effect. Later one takes the lead and the other does backings, and then they combine and separate depending on the lyric.
What about the lyrics you ask? What would you make of this bit:
Walking down to the doctors to have the string put on
Well, he made a mistake and put it on wrong
No need for knocking on anybody's door
You got the right string baby, but the wrong yo-yo
I'm scratching my head, by the only conclusion I can draw is that it's all good fun, really. They sure as hell seem to be having a great time....