Too Hot To Hold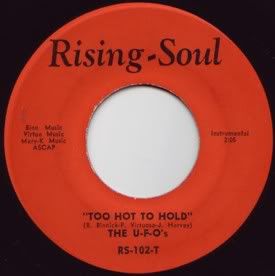 It seems that I may have saved the best for last in this week of "local 45s", but this one just arrived on my doorstep today. I actually didn't think it would make it here in time, but the post office came through, and so I present to you The U-F-O's "Too Hot To Hold". This record also happens to have the distinction of being the 45 I've spent the most money on.
"Too Hot To Hold" is, simply, a fantastic funk instrumental. Kicking off with an almighty drum beat, the other plays come in as follows: the heavy bass, the organ, the guitar with his clean lines, and finally the wailing saxophone. It's amazing how clearly you can hear each instrument while they're playing. When the break comes, it's like you're sitting right in front of the kit. It's amazing how powerful a punch is delivered for only 2:05. Someone had the good foresight to record this session nice and loud. And for this, I'm very appreciative.
Have a listen
here
. Check how the drummer's holding one of the counts.