Mumble Shing-a-ling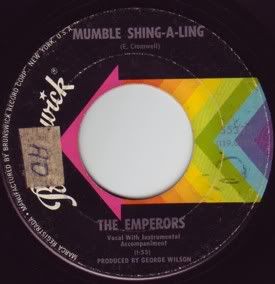 I had a tough time choosing which Emperors 45 to post tonight, either this one or "My Baby Likes to Boogaloo" (which I'm very fond of as well), but "Mumble Shing-a-ling" won out. The Emperors were from Harrisburg, PA and recorded several 45s for Mala and one for Brunswick. There were some changes in the band & then several members formed Emperors Soul 69 & released the mighty funky "Bring Out Yourself".
"Mumble Shing-a-ling" is a solid groover. It has a great dance beat, a raucous, funky, handclappin' affair. They even bring their own crowd noises. I couldn't imagine being able to sit through it. Plenty of bass up in the mix throughout, and eventually the organ kicks in to complement the guitar at the forefront. Quality tune.
Have a listen
here
. Now I gotta throw on "My Baby Likes to Boogaloo".....