Be's That Way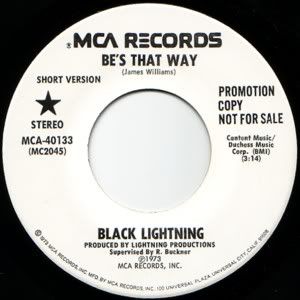 A few months back I featured a 45 by Black Lightning entitled "Trouble". Tonight, I feature their other 45 on MCA, "Be's That Way", which is another great record.
Start to finish, "Be's That Way" is an intense tune. The vocals are nearly shouted, the band is pushing their instruments, the recording is nice and loud. They even throw in some fuzz guitar (which is something I would normally not get into, but it really works here). Listening to this tune, I'm nearly speechless. This is a tune I wish I could see performed live. I imagine it must have been mindblowing.
Instead of saying any more, and since it seems I've figured out the mp3 thing, I'm just gonna give you a link to hear the tune for yourself. Click
HERE
to be taken to a page where you can download the mp3.
Enjoy the tune & have a great Thanksgiving holiday weekend.