Do You Dig It?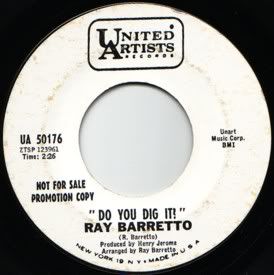 It's Sunday night and my wife and I have the Sunday evening blues even though it's a short work week. Consequently, I've been playing this great uptempo boogaloo number that Ray Barretto released on the United Artists label, "Do You Dig It?". It's actually one of a few tracks that I recently re-discovered on a CD I made a few years back.
"Do You Dig It?" is centered around the following chorus:
Do you dig my groove? The Boogaloo
Do you dig my swing? The Shing-a-ling
These lines - backed by a smoking band - set up the tune, and then these lines are shortened to "Do You Dig It?", where someone takes the lead vocals and respond to this question and extorts the audience to get into the groove. Behind this call and response, that percussive-heavy, infectious boogaloo groove.....bliss. There are several hand-clapping breakdowns, which are an interesting touch. The band gets a short respite only to return and double their efforts. Simply amazing.