Good Thing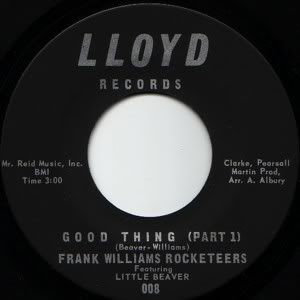 Tonight, a 45 by Frank Williams Rocketeers that features Little Beaver on side 1. I have always been quite fond of the b-side, the instrumental side, but recently have been getting into "Good Thing (Part 1)". I really have to break my bad habit of not flipping records over now and again.....especially since I am quite a fan of Pearl Dowell's version of Good Thing on Saadia.
"Good Thing (Part 1)" is a organ-heavy soul tune with plenty of echo that moves at a real nice pace. It sounds somewhat distant thanks to the recording, but when the horns come in, it packs a solid punch. Part 2 is simply an instrumental of the A side, but the recording seems less distant, and the horns get the lead in the tune, with some vocals (most likely made up during the recording) thrown in to encourage the band to play. While I wouldn't label it as funk, it has a real nice groove.
Click on the the song titles to hear part of both sides:
"Good Thing (Part 1)"
"Good Thing (Part 2)"
.