Battle Of Funk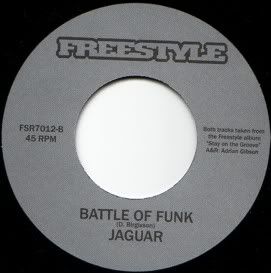 Here's a recently released 45 on the UK Freestyle label, Jaguar "Battle of Funk" / Poets of Rhythm "Ham Gallery". Unfortunately, I have 2 complaints: a) the Poets of Rhythm side skips & is unplayable b) the label design leaves much to be desired. That being said, the Jaguar side is quite good.
Starting off with a stripped down sound, scratchy guitar and thumpin' bass and steady drums, the horns work their way in to start the layering process. Then the organ shows up, and the tune really starts to work it's magic. The guitar takes on a jangly sound, and then an electric piano shows up...it suddenly sounds more sophisticated as everyone gets their bit of soloing in. That horn line they keep returning to is very nice. Returning to the original elements of the tune, they finish it off as they started, pared down to the essentials of guitar, bass, and drums.
Here's a link to the
Freestyle Records
website where you can learn more about the label and hear some soundclips.