Living In A World Of Trouble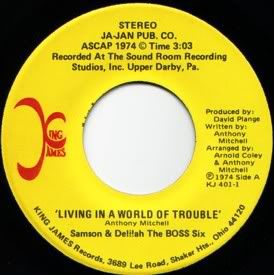 I was playing a CD I made from early in 2005 for a particular album cut, and then "Living In A World Of Trouble" came on. I thought to myself, 'good tune - haven't heard this in a while'. Consequently, this tune by Samson and Delilah and the BOSS Six is my focus tonight. The only thing I have found (courtesy of
Ohio Soul Recordings
) is that they were a Pennsylvania group that released this 45 on an Ohio label, which would explain the Upper Darby, PA, studio listed on the label.
"Living In A World Of Trouble" is a funky soul dancer. Solid uptempo groove throughout, nice vocal interplay between a male and a female singer (and the chorus behind them as well), and I dig the intro that sounds nothing like the rest of the tune. When the change happens, the groove is suddenly so much more gritty (even though the production is pretty nice). I also like the horns, organ, and electric piano that seem to be relegated to flourishes in the background. Nice.
Have a listen to some of the tune
here
. Click on the song title on the page you are taken to. Enjoy.