Come Down Baby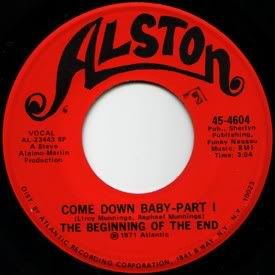 Lately I've been playing CDs I made a few years back, and there are a couple of tunes that have re-captivated me. One is Beginning of the End's "Come Down Baby - Part 1" on Alston. Beginning of the End formed in Nassau in the Bahamas, and had a hit with "Funky Nassau" (and released an LP of the same name).
The song starts off with some jangly guitar and then the drums and bass come in with it's tricky yet captivating rhythm. All kinds of percussive elements make up the groove (love the flecks of conga I can occassionally pick up). And some glorious horns ebb and flow to punctuate portions of the song. Little bit of organ in the mix, too.
What really sets 'Part 1' apart is the vocals, where the singer extols the beauty of Bermuda, his home, and so soulfully I am convinced. Lines like:
Come where the water is so nice
Come on down sail on the water
Come on down, swim in the deep blue sea
But my favorite line out of it all, in the midst of him describing the pink sand, the dancers in the street, the music, the gambling, and the good times, is this line sung with a slightly different timbre:
Come where every man can be what he wants to be
Now how can you argue with that? A 45 to buy on sight.