I Found Another Love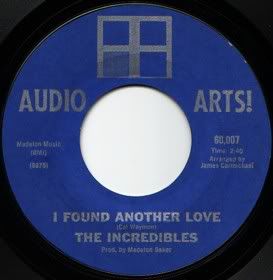 Along with the Leon Garner 45 mentioned last week, there were a number of soul tunes in that box of records. Included was the northern oldie "There's Nothing Else To Say" also by the Incredibles (which happened to be a favorite when I first started listening to soul). "I Found Another Love", though, was one I never heard before, and it's been a really nice surprise.
Kicking off with a bit of guitar, the drums and bass come in and then an aching falsetto voice takes over the tune. And the tune is his all the way through. The vocalist is thanking his ex for leaving him so he could find someone new, but the vocals are direct, somewhat mournful, not joyous. And, while the tune is uptempo, the music seems to have the same energy coursing through it: the guitar is harsh and metallic, there's a lonely clarinet (maybe oboe?) that appears for a short solo in the background mid-song, and the horns barely make an appearance, only helping the create a pause. Then again, perhaps that's so nothing detracts from that fantastic delivery. A highly recommended 45 here.