Love Me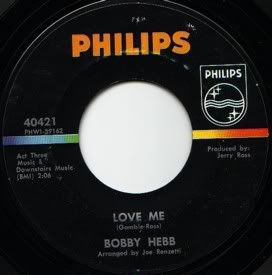 Still digging through that box of records that showed up last week, and here's one by an artist you should definitely recognize, Bobby Hebb of 'Sunny' fame. This 45 is from that LP, but this b-side is a non-LP track. And what a monster tune it is.
The tune builds from the opening drum roll, Bobby lowly singing over the vibraphone and bass guitar. As he sings the guitar and drums come in, and then we're off. A female chorus backs him up for the chorus as the horns and strings fill in the background. And the bass subsumes the bottom of the tune (I really like this). As this rich tapestry of sounds is woven, Bobby's singing intensifies, culminating in a dramatic finish.
This 45 has my wife's seal of approval, so it's one you should buy on sight.