Mary Wanna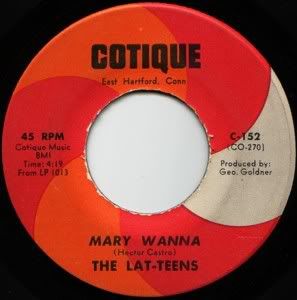 OK, while many folks are talking about Christmas themed tunes at this time of the year, I thought I'd present something left field, a tune I found yesterday in a mostly punk rock record shop, The Lat-Teens "Mary Wanna". Perfect timing, too, as I was hoping that I'd find some latin for the holidays.
"Mary Wanna" is, of course, a thinly veiled personification of the drug, set to a backdrop of what could be best described as stoner boogaloo, as shown in the looping, almost out of tune, guitar lines over a rhythm that is slow, almost mid-tempo, and seems out of step with the normal tempo that I associate with boogaloo. But it is perfect for this little homage to Mary Wanna, who has requested that they "do it the Lat-Teens way". Great stuff. Killer percusion and horns, too, by the way.
Happy Holidays to everyone. Stay safe...and sane.