Watermelon Man.....Wabble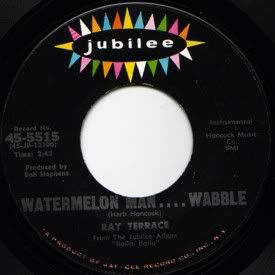 Here's a quality latin 45 that showed up this week, Ray Terrace's "Watermelon Man.....Wabble" on Jubilee. It has become my favorite version of the Hancock classic, overtaking the splendid Mongo Santamaria 45 on Battle. It's just a bit rougher, has a bit more punch, than any other versions I've heard (although maybe not as dancefloor-friendly as the Mongo 45).
I found a soundclip on Tamla63's website
here
. Highly recommended site, as there are some quality tunes there.