Stormy Weather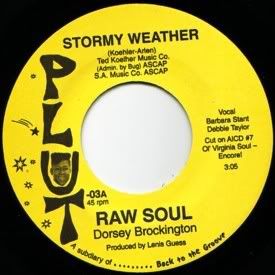 Dorsey Brockington's "Stormy Weather" is a new 45 of previously unreleased material. Released on the Plut label (which I assume is outta Virginia as that is where the recording is from) within the last few months, this record is has really knocked me out. I find it hard to believe it never got a release, it's so good.
"Stormy Weather" opens with the sound of rain on concrete, thunder menacingly cracking in the background. Barbara Stant and Debbie Taylor come in and sing the opening lines and then turn things over to the horns. The focus is shared between the female vocals and the horns. And while the vocals are in sync, the horns move between lines that are synced and lines that weave around each other (which sounds fantastic). Behind this the drums, bass and guitar keep it all grounded. The thunder comes in for a false ending as vocals plead to 'let the sun once more', but as things die down, the drums come in, and the horns pick it up again until the rain and thunder closes the song. The production is just top notch.
Very highly recommended 45. Get a copy before they're sold out.