(It's Got To Be) Now Or Never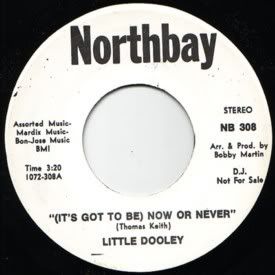 It's been over a week since my last post, much longer than I expected to be away from the blog, but with 11 weeks to go until my wife's due date, all the things that are required to be done before that date are jockeying for my attention.
Tonight, a tune from Little Dooley, "It's Got To Be (Now Or Never)", which I am assuming was released in 1972 (the flip side of the label has radio station call letters and the date of 11/27/72 written on it). Like the Boby Franklin 45 featured a short while back, I first heard this record on the Saucy 70s cassette (if I recall correctly - I still haven't been able to find the cassette - and I would really like to). Anyway, I bought this 45 today, and it's been on repeat. It's a very nice mid-tempo soul tune built on a simple groove. Strings and horns move through the background, never overpowering the rhythm. Little Dooley's vocals are so smooth and so soulful, and very restrained for the topic he's singing about. Such a well-constructed and executed tune. Perfect for a late night when the lights are down low.
You can listen to this tune at
Soulclub
.