I Can't Go On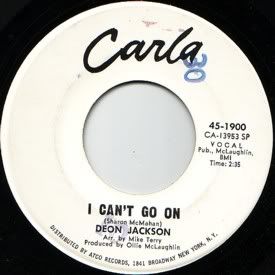 Except for an hour at a local flea market, I spent nearly all of last weekend painting the baby's room. Good thing I went to the flea market, as I purchased a few soul 45s out of the back of a truck. One 45 has really captured me, Deon Jackson's "I Can't Go On", released on Ollie McLaughlin's Carla record label in 1968. This record is great. Nothing fancy to it, just a solid mid- to up-tempo dancer. Deon is backed by female vocals and - for the most part - a stripped down backing band, just drums, bass and guitar. Horns come in only for dramatic effect, an organ sometimes helps make the transition from verse to chorus. Really, the show is all Deon's. And his smooth vocals and relaxed delivery are spot on.
You can hear this tune over at
Soul Club
. I highly recommend giving it a listen if you're unfamiliar with the tune.
There's a great article on
Ollie McLaughlin
over at Hitsville Soul Club.