Vinyl Record Day, 8/12/2008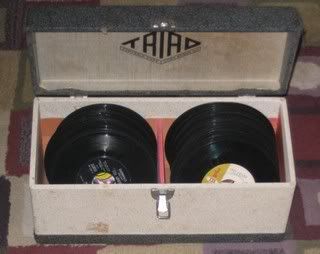 I'm coming in on the tail end of Vinyl Record Day, but wanted to add my thoughts and well wishes for this celebration of all things round and meant to be played on a turntable.
This summer I've done something different and taken a break from my normal record collecting habits (focusing on soul, funk, jazz 45s), have given up on e-bay, and have just relied on the record I have been able to find at various flea markets, yard sales, thrift shops, as well as record shops and shows. It has made for some interesting listens, as I have bought obscure hip-hop 12s at a yard sale, someone's collection of chanting records from a thrift shop, psychedelic and early 70s rock LPs from the only box of records at a flea market at a church in Trenton. Basically, I have spent this summer buying records outside of my comfort zone, which has sometimes surprised me, sometimes disappointed me.
On this Vinyl Record Day I want to advocate something different: before you put on your favorite record, give something that hasn't quite clicked with you another chance. You just might be surprised.
There's a number of blogs celebrating Vinyl Record Day, and the full list of participants can be seen over at
The Hits Just Keep OnComin
blog.