Sweet Charles "Hang Out & Hustle" People PE 656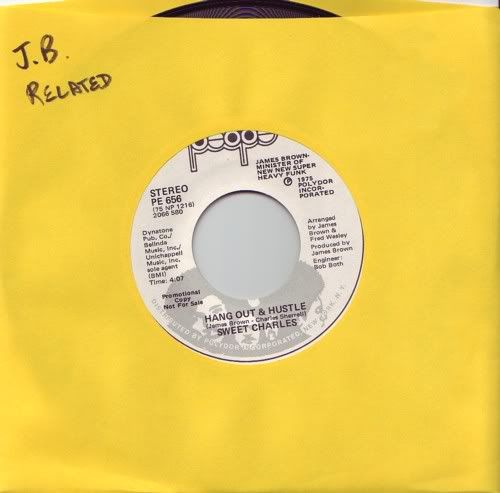 Birthday Gift#2: Sweet Charles "Hang Out & Hustle" People PE 656
Courtesy of my sister, who generally refuses to give me money for records. Well, she's finally coming around, and I was able to purchase this great tune with some of the money.

Sweet Charles is Charles Sherrell, who joined the JB ranks in the late sixties as a bass player. In the 70s, he did some arranging and had a few releases on JB's People imprint. This track is more of a shuffler, unlike the uptempo 45s I ususally go for. As you can imagine, being on the People label, the playing is exquisite: the bass is riding it's own groove, the guitar is doing all types of perfectly timed small flourishes, the horns are untouchable, the organ pushes it all over the top. It's amazing how perfect the timing is between the instruments.

Charles' lyrics don't make much sense sometimes, but I've learned not to pay too much attention. Instead, I just enjoy what he's getting at and let the groove wash over me........(this tune - and several other People label classics - can be found on James Brown's Funky People (Part 3)).