Nobody Loves You Like Me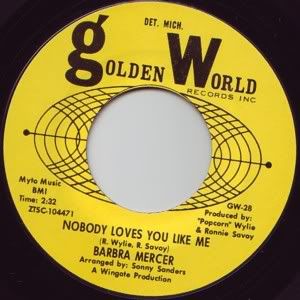 As I stated earlier last week, I have been back in the soul box quite a bit lately. Looking through it, I see mostly "northern soul" tunes that I bought when I first heard northern in the late 90s. This week I'll be delving into these tunes, pulling out a few that continue to stun me.
First off, one from Detroit - a Richard "Popcorn" Wylie production - Barbara Mercer's "Nobody Loves You Like Me" on Golden World. What really knocks me out is Barbara's voice....just lovely, almost as if she were singing the words in your ear. A contrast to the big 4/4 beat. But she effortlessly raises voice above it. There is also some nice vibes and piano playing behind her which work in unison (the light / heavy contrast again)to keep the balance. And I don't want to forget to mention the occassional fuzz guitar that shows up underneath when she sings "Nobody Loves You Like Me". The low to the high of the trumpet that follows? Ace tune here.