The First Thing I Do In The Morning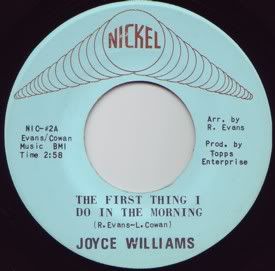 When I first got a good listen to some funk 45s via a cassette made by a friend, I originally steered towards the 60s sides. Being a 60s soul fan while almost disdaining soul from the 70s, I just couldn't get into the 70s funk (or soul) sound. Now I can't tell you why, and that all started by repeated listenings to this tune, Joyce Williams' "The First Thing I Do In The Morning". It managed to shake me from my anti-1970's mindset, thankfully. The release on Nickel is actually a second press from what I can gather. It was originally released on ACT IV Records, and the main difference is that the Nickel pressing has an added flute bit at the start of the song (which I quite prefer).
"The First Thing I Do In The Morning" is a bass-heavy mid-tempo funk tune that has this nasty little wah-wah guitar line in the background. There's some real nice flute playing as well, contrasting that heavy bass. Earthy, yet free as a bird. Such a simple rhythm, but so effective....that's how it got under my skin years ago & remains a favorite to this day.....