If This Ain't Love (Don't Know What Is)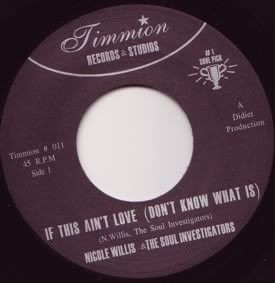 Another recent release, Nicole Willis and The Soul Investigators' "If This Ain't Love (Don't Know What Is)" on Timmion Records out of Finland. Timmon has released quite a number of great 45s (the Ernie Hawks 45 was reviewed in an earlier post), including several that have charted.
I was expecting funk, but I am pleasantly surprised to find that this is a soul record. Starting off with a mid-tempo drum beat and some guitar, that soon gives way to a big 4/4 beat and Nicole's vocals. Her vocals are straightforward, almost a bit reserved, contrasting the strong drum beat. It works nicely. The horns come in during the chorus, but do not overtake the vocals. Instead, they complement the mood set by them. The songs ends with the appearance of a flute, which lightly takes the song to it's conclusion.
It's a moody slice of soul, and it sounds great. Perfect timing, too, as I've been listening to more soul this summer. Keep 'em coming.
Click here to learn more about
Timmion Records
and to hear some of this 45.