Trouble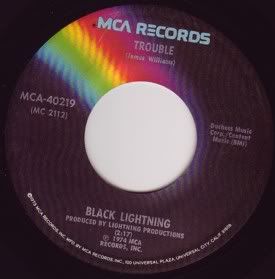 Here's a manic funk tune I recently found, Black Lightning "Trouble" on MCA. And even though they are on a major label, I have been unable to find any information about them. How do these records get released and then the participants disappear? From what I understand, it has just started getting spins on the funk scene, if there is such a thing.
Definitely has that early 70s sound, and features a singer who is at the end of his tether. He's worked up, sometimes screaming, and the band plays furiously to keep up. The production is bass heavy, with some great, quick horn stabs. The drummer is just bashing, and the guitar play is throwing down the fastest wah-wahs I've ever heard. It stops and starts, and is ferocious every bit of the way. I like it.
Now who's heard their other 45, "Be's That Way"?