Hot, Funky & Sweaty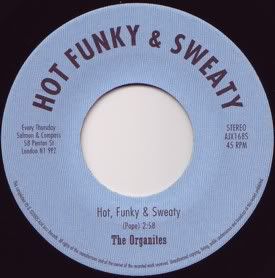 This is a new release, a single from the recently released LP "Hot, Funky & Sweaty", put out by the club night of the same name and featuring covers of tunes by current funk bands. The tunes featured here are The Organites' "Hot, Funky & Sweaty" (originally by the Soul Lifters) and The Neapolitans' "Crosstown Traffic" (I'm sure you know how originally did that one).
I thought that "Hot, Funky & Sweaty" would be a tough record to cover since the original is so amazingly good. The Organites are smart - they make it their own. Whereas the original is stripped down to the basics, The Organites add some layers and tear it up. The poly-rhythmic undercurrent is a real nice touch, and the guitarwork and organ playing is spot on. And it seems they gave the main guitar line to the bass player, allowing the guitar line to come in on top and finish up. Nice one.
The Neapolitans funk up Jimi's tune, throwing in some interesting additions, specifically the flute and vibraphone. I like it. The beat is relentless, the wah-wah is furious, the bass is nice and loud. I especially dig the vibraphone lead at the end of the tune.
Great double sider here. To learn more about the night, check out
Hot, Funky & Sweaty
. In the USA, you can buy the LP/CD and 45
here
.