Green Power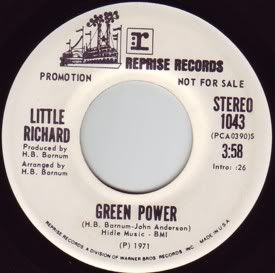 What's this? Yes, it's that Little Richard, and it's pretty damn funky. That's what I love about collecting records....you never know what you might find when you go out and look. I bought seven 45s today, and this is perhaps the biggest surprise, and maybe even the best....
Kicking off with some tasty wah-wah guitar, a solid groove is laid down (love the congas in the background), and Little Richard helps it to build nicely. A couple of ladies come in to help with the chorus, and then he slowly rachets it up, screaming "sock it to me! sock it to me!" before throwing in a trademark Little Richard "whooo". The song finishes on the same high, everyone giving what they got.
Again, a surprising & interesting record. Recommended.