Hesitate One Time For Me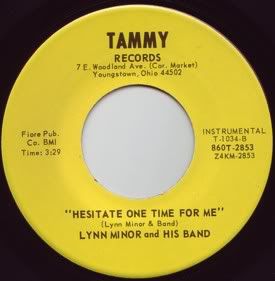 Here's a tough funk track, "Hesitate One Time For Me" by Lynn Minor and His Band on Tammy Records outta Youngstown, Ohio. Not tough as in hard to find, but tough as in hard funk. This track starts off by knocking you down, and you can't get up.
The label says INSTRUMENTAL, but Mr. Minor exclaims, screeches, pushes his band, and talks to the ladies in the audience throughout the song. Even though the entire band is intensely playing, this song truly belongs to the drummer. I don't ever recall hearing someone bashing their kit with such ferocity. By the end of the song, it ought to be in tatters. The guitar playing is sharp and raw, and the bass player is trying to keep up with the groove. The horns, well they're just simply everywhere. Love the sax solos over the top of this tune. Some r'n'b flavor added to the funk.
3:29 of perfection. Very highly recommended 45. Have a listen
here
.