Pearl, Baby Pearl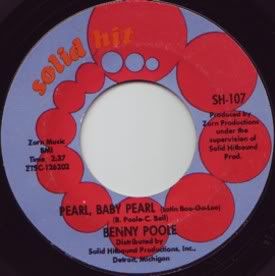 Even though I had a fruitful weekend and found several 45s, I'm still going through some 45s that I've had for a while and scanned last week. Tonight, a monster mod funk instrumental outta Detroit, Benny Poole's "Pearl, Baby Pearl (Latin Boo-Ga-Loo)" on Solid Hit. This is the kind of sound I was really into before I fell under the funk 'spell', quality 60s soul instrumentals.
"pearl, Baby Pearl" has plenty of r'n'b throughout, courtesy of that saxophone. Throw in some crisp as hell drumming, the lovely conga bits, and the organ playing, and it's one hell of a groove.
So good it's quite understandable why this would dod the business at either a funk or a mod night. Have a listen to this fantastic tune
here
.