Baby, Do That Thing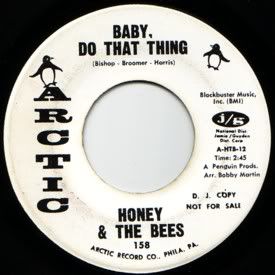 Tonight, a great 45 courtesy of Honey & The Bees, "Baby. Do That Thing", released on the Arctic label in 1969. Honey & The Bees released a number of 45s on the Arctic label and then subsequently moved to Josie, and finally, the Bell label (a full discography is available at the
Soulful Kinda Music
website).
"Baby, Do That Thing" has a churning mid-tempo groove propelled by by solid drumming, plenty of bass, some modest guitar lines and punchy horns. And let's not forget the bongo player who gets the spotlight when everyone stops on a dime. An indirect dance tune, "Baby, Do That Thing" has lyrics that persuasively implore "baby" to hear the music, get on the floor, make their hips move; meanwhile, the audience is moving their hips and feet as well. An addictive tune, one I can easily have on repeat.
Unfortunately, I do not have a sound clip for this tune. But I strongly recommend checking out the soundclips available at
www.soulclub.org
, especially "Love Addict", another favorite that I hope to bump into on 45. For now, I'm gonna find me a Honey & The Bees collection on CD since I do most of my listening in the car these days.