Pretty Li'l Mama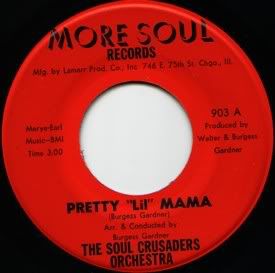 Here's a great record out of Chicago, The Soul Crusaders' "Pretty Li'l Mama" b/w "Funky Jive" on More Soul Records. I believe this 45 is generally bought for the flip side, and it is quite a hard-hitting funker, but "Pretty Li'l Mama" is the side for me with it's big band funk sound (note the group name - Soul Crusaders Orchestra).
Opening with a sinister bass line and some hard drumming, these elements converge with piano, guitar, and a chorus of horns to establish the groove. And there's not much mucking about with a good thing, so they just ride it out, throwing in a bit of respectable guitar soloing near the end. What a solid tune, and it won't set you back much more than a tenner.
Have a listen to part of this tune
here
. The flip side can also be heard
here
.