Don't Mess With My Lovemaker (Part 2)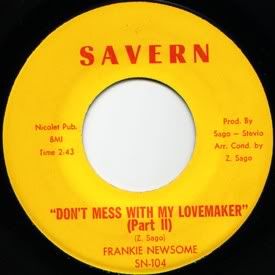 Here's a great 45 by Frankie Newsome, "Don't Mess With My Lovemaker (Part2)" on Savern (which for some reason I believe is a Chicago label, but I am not 100% sure). A blind purchase from a few years back that certainly pleases. Especially on a March that got around 70 degrees......
Starting off nice and heavy on the percussion, the bass rumbles in, and then the guitar and horns to fill in the gaps. Frankie repeatedly exhorts everyone in hearing distance not to mess with his baby, and that is echoed by both male and female backing vocals. In the middle, the guitar, bongoes and a tambourine combine only then they dissolve and over the original percussion, Frankie makes his declaration:
Now I gave up everything just to keep her satisfied,
Fellas! hands off unless you wanna lose your life,
Now when you see my baby, forget that silly grin,
Cause when you mess with my baby that's when I come in
I guess that pretty much sums up this tough funker. Hear a clip
here
.