The Budos Band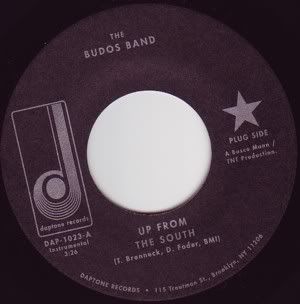 I'm gonna be out of town for the week on business, so the blog will be dormant for a few days. But before I leave I want to mention this great 45 I recently bought from the ever-impressive Daptone label, The Budos Band "Up From The South / T.I.B.W.F.". I've been meaning to write about this release, but life gets hectic and then the mid gets scrambled and ........
"Up From the South" has an afro-funk feel with some great organ and scratchy guitar. Nice horns, the percussion is great. "T.I.B.W.F." slows down the pace a bit & ups the heaviness. More of the qualities I liked on the A-side. A real headnodder. Both sides have a bit of moodiness to them, just how I like my funk. Very nice.
To learn more about Daptone Records, click
here
.