I Gotta Go Now (Up On The Floor)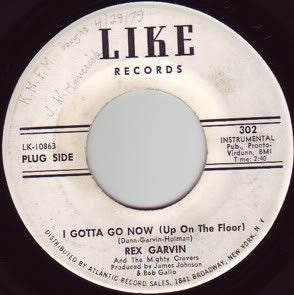 Well, I don't believe this falls in the northern soul camp, but it is a raucous bit of uptempo soul.....Rex Garvin's "I Gotta Go Now (Up On The Floor)" on Like. This also happens to be - unfortunately - a soul record that has been in the back of one of my 45 boxes too long.
Although the label says 'Instrumental', it most certainly not. Rex is backed by a male chorus that supports his exhortations to get out on the dance floor, handclapping and singinging "hit it" and "don't quit it" when called for. The tune is almost more r'n'b than soul, stripped down to guitar, bass (almost fuzzed out), drums, and an occassional organ line. Wait, a saxophone is back there, too. Perhaps I'm splitting hairs, but what I do know is that this is a big, uptempo number that - when I used to DJ years ago - certainly got people off their feet.