I Dig Your Wig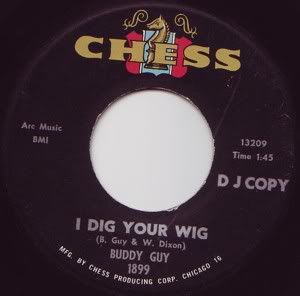 OK, I don't really know much about blues, but right before I went to Chicago last week I found this 45. I first heard this record on a cassette I had years ago, mostly a mixture of soul and r'n'b...plus this blues number with the funny lyrics. I figured since I was in Buddy Guy's club last week I should feature this recent acquisition.
It's a nice mid-tempo piano- and harmonica-led mover with plenty of bass. But what really gets me is the lyrics, best summed with the lines: "Gonna get you one of those three color wigs / Something you know the cats gon' dig." Classic.
And check out Buddy's when your in Chi-town. Nice joint.