Talkin' Loud and Saying Nothin'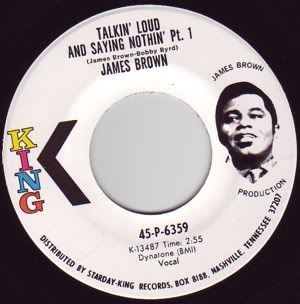 For the amount of funk 45s I mention here and the amount of time spent trying to find them, I've yet to mention a James Brown 45. Well, tonight, the one JB 45 that's been pretty tricky locating, the "rock" version of "Talkin' Loud and Saying Nothin'" on King. Originally, I believed this version was only available on a promo copy, but I have been told that there are blue label King stock copies as well. No matter what copy is available to you, this release just outdoes the later version released on Polydor.
What really strikes me about this record is how raw it is for James Brown. I think that's perhaps due to the fact that the recording seems somewhat loose, not as tight or as polished as his releases usually are (the downside of his group being so polished is that they lose some of the grit that I really like on most funk recordings). Also, since the group has been reduced to a four-piece (I'm assuming James is on organ....there are no horns whatsoever), the guitar really comes to the forefront. Or at least it vies for attention with the bass and drums, as they're all in your face. Phenomenal stuff here.
You can hear a snippet of this record
here
. It's also available on James Brown's Funky People Part 3. A highly recommended release.
Oh yeah, lovely town that Chicago.