Untrue, Unfaithful (That Was You)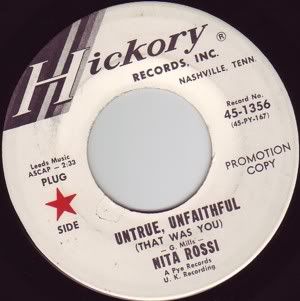 Here we have a monster 45 from the UK (that somehow managed to get a release stateside on the Nashville-based Hickory label), Nita Rossi's "Untrue, Unfaithful (That Was You)".
This tune kicks off bass-heavy with a big beat and a killer flute line. Then it mellows out while Nita reminisces about their romance, and then the chorus kicks in with that mesmerizing flute-laden beat. This sequence repeats a few times with the addition of some strings to accentuate the mood.
Only problem: no details of Nita to be found on the internet. All I found out was that another one of her 45s ("Something to Give") has been adopted by the northern soul scene. But nothing about her. Details anyone?