There's A Break In The Road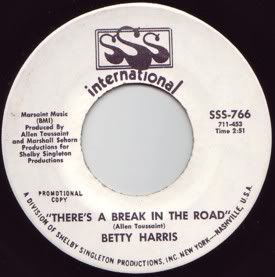 Tonight, a New Orleans tour-de-force, Betty Harris' "There's A Break In The Road" 45. Released in 1969, this record features The Meters backing her, and what a phenomenal job they do. Their playing is raw, full of feedback, almost sounding like it's gonna fall apart. But it is the intensity of The Meters combining with the brutal honesty of Betty's vocals that makes this record special, not The Meters themselves. I mean even the female backing chorus have lost the normal veneer of backing vocals.
This is one of those tunes that words fail in describing. You would need to hear the directness and intensity to understand what I'm on about. Have a listen
here
. Brilliant.