Turtle Walk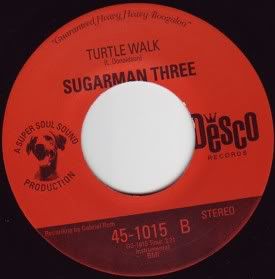 Keeping with the animal theme, here's a brilliant cover of a Lou Donaldson original, "Turtle Walk", courtesy of Sugarman Three. And while you may think of a turtle walking slow and clumsy, this tune is anything but. It has all the ingredients of a top tune: hard drumming, plenty of organ, horns and more horns, and all of it served up tight as hell. The horns and the organ player each get a bit of the spotlight, and they are just the right length. Nothing over the top, just hard hitting and leaving you wanting more. And that fantastic drum-heavy refrain that they continue to return to, they certainly are giving the drummer some.
There are some real great 45s on the Desco label, a couple of which may be more coveted than this one by collectors, but this really is a monster record from start to finish. And for what it costs, it certainly is the best one for the money. Have a partial listen
here
.
Check those Sugarman Three 45s on Daptone as well. Quality stuff.